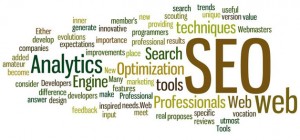 It is imperative for website owners to optimize their sites to be ranked highly by the number one search engine in the world: Google. Websites are built to promote businesses, sell goods and services, and tell the world what you have to offer. It is a waste if your  site ranks low or doesn't show up in Google search because people aren't finding you. After all the effort you put into building a website don't you want people to be able to find it?
There are a few important tips that when adhered to, will help rank your website well in Google search and by doing so drive traffic to your website.
The Keyword Factor
Keywords are what users type into search engines to find your website. Choosing the right keyword set is probably the most important step you will take in optimizing your site. It is important that you don't choose general keywords- instead use keywords that are specific to the niche of service you are providing. For instance, if you own a bakery named "Norma's Baked Goods" in Seattle, you might want to rank for "Seattle bakery" or "Custom Cake Makers in Seattle" because these keywords are specific to your business, the service you offer, and what your customers are looking for. Choosing keywords like "Baked foods" and "Bakery" are too general. Aim to optimize each page on your site for a different search phrase.
Make Sure Your Content is Relevant
Develop great content for your website and build this content around the proper keywords. Remember that you are competing with thousands of websites for the attention of your customers, therefore having relevant content is very vital to the success of your site. The content on each page should have about 3%-7% keyword density. In the example given above, if you are looking  to rank for 'Seattle Custom Cakes' than a page with 500 words on it should have your keywords (the exact phrase: Seattle Custom Cakes) written about 25 times.
Tagging of Images and URLs
SEO friendly 'alt' tags should be added to images in order to tell search engines what the images are and increase the amount of keyword-relative content on your site. Images without these tags will float around the cyber world going unnoticed. You can also improve your ranking by adding 'title tags' to outbound URL's to describe pages that your website links to.
Tip: Make sure your website URL is search engine friendly. A domain name like www.best-bakery-seattle.com  will generate a higher ranking when compared to www.companysname.com -even though they might all have the same SEO tags.
Optimize Each Page
There are many tools you can utilize in on-page optimization. Take note of the following page optimization strategies:
1. Meta data are lines you include in your code to tell search engines what your site and specific page are about i.e. Page Title (This appears at the top your browser, on the Windows Taskbar). Search engines read this to help them discover page content.
<title>Norma's Baked Goods</title>
2. Meta Description – each page should have its own description.
  Custom Cakes page might have:
<meta name="description" content="Bake custom cakes for multiple occasions including wedding cakes and birthday cakes" />
3. Meta Keywords – should also be specific to page
 <meta name="keywords" content="custom cakes, wedding cakes, birthday cakes, Seattle custom cake bakery" />
4. Heading Tag – Search engines look at your heading tags to see what subjects of content are on your site. Using a bigger font is not enough – must use tags.
 <h1>Why Our Custom Cakes are Seattle's Best!</h1>
 <h1> should have most important keywords, <h2><h3> etc should have supporting keywords as well.
Once you have followed these steps you are on your way to having a Google optimized, search engine friendly site! After you have completed on-page SEO you need to concentrate on getting your site out there by engaging in numerous off-page SEO strategies. These off-page campaigns are what really have the potential to make your site rank well and start driving traffic to your site. Off-page SEO is a whole other battle- stay tuned for our next post on Mastering Off-Page SEO.