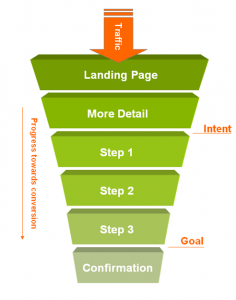 Websites have become one of the major avenues for businesses to market themselves, conduct business online, generate revenue, and sell a product or service. Once you have mastered driving traffic to your site (through search engine marketing, web promotions etc) you must focus your efforts on a new challenge. It is important to understand that attracting visitors to your site is completely different than converting your visitors into paying customers. A lot of the time websites do not have the necessary features to convert viewers into customers which results in visitors roaming around the website but choosing to never return. In order to convert your website viewers into customers there are a few things you should pay attention to:
Tip #1 Ease of Navigation
Make your website simple and easy to navigate through so that your viewers can easily find whatever they are looking for. A good website is intuitive so that anyone can get access to it quickly. Your website should have a correctly placed and detailed 'About Us' page to tell your viewers who you are and what you do. It is also important to have easily accessible customer service so that your viewers can easily contact you with any inquiries. Do not frustrate your potential clients by building complex and difficult to navigate websites, keep it is simple and intuitive.
Tip #2 Provide Multiple Payments Options
Don't restrict patronage to your products by restricting  payment options as viewers easily get frustrated with so few options. Since there are a lot of secure third-party payment options available it is inappropriate to restrict your payment method to just a visa card. Integrating third-party payment companies like Skrill, Pay Pal, One Pay, Western Union and others will open you up to customers from all over the world. Most online banking systems are secure and very helpful for online transactions.
Tip #3 Have a Clear Call to Action
Many websites offer quality products but are unable to attract paying customers because they forget to make their intentions clear. To turn viewers into customers you must appeal to your customers and be precise about what you want the viewer to do about your offer. You should always insert phrases like 'get a free quote', 'book a consultation', or 'sign up now' to urge viewers to take immediate action to benefit from your offer. Don't forget to let customers know the benefits of using your services.
Tip #4 Offer a Gift as an Incentive
When a visitor comes to your website they are usually trying to expand their choices. They may have searched through other websites that offer similar products to yours but are looking to compare and find the most attractive offer. Offering the viewer a freebie is a good way to get the users attention and encourage them to make the next step or provide information. This freebie could be a digital representation of what you have to offer, such as an eBook or some form of audio or video representation of your product or service. This will give the customer an idea of the quality of your product/service and the dedication your company has to helping the customer out. Furthermore, you can ask for the users email address or phone number when they apply for the free gift offer. With that information you will be able to follow up and hopefully close the sale.