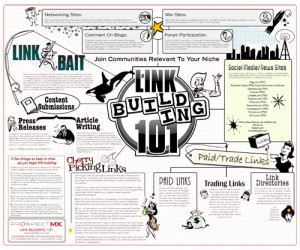 Off-Page Optimization is all about focusing on your website's 'natural' growth. Its basic concept stems around the fact that the more your website is 'talked' about around the net the more credible search engines will think it is.
InBound Links
Search engines are constantly scraping websites to see what they are linking to. If a credible website (based on a search engine's ranking of it) is linking to your website it will help build your credibility and increase your SE ranking. These inbound links (other websites linking to yours) will also build your Google 'Page Rank'. You can see what your website's Google Page Rank is by using our Google Page Rank Checker Tool. Sites are ranked on a scale of 1-10 – the higher the better. Google will re-assess your website on a regular basis to determine if your PR should be increased.
Inbound links (also referred to as backlinks) will also help drive traffic to your website. A good way to gain inbound links is by posting useful comments on other blogs that are relevant to your industry and your website. You can offer to 'guest blog' on other blogs. Blog owners are always looking for fresh content so they might allow you to write enture articles for them discussing your business/industry. This is a great way to gain credibility and drive some traffic to your website.
Google Blacklist
It is important to utilize honest techniques and avoid taking any shortcuts that could result in your website being put on Google's Blacklist. Once you are on the Google Blacklist you are removed from all SERPs (search engine page results) and won't be able to take advantage of any traffic coming from Google (a website's worst nightmare!).There is a constant battle between the 'black hat' seo guys (the ones who use dishonest techniques) and Google. Black hatters keep trying to fool Google into ranking their sites better, while google tries to shut them down. Avoid using black hat techniques such as:
Keyword stuffing – stuffing your pages with keywords and using various techniques to keep them hidden like making the text the same colour as the background
Hidden text – this is text hidden using CSS that users can't see, but search engine bots can
Mirror Website – Having the same site on multiple domains that target different keywords in order to bring in a wider variety of traffic
Link Farms – Website dedicated to providing backlinks
Using software to get you backlinks quickly – this looks unnatural
Using any of these methods will quickly get you on the 'blacklist' – a place you really, really don't want to be. We will later discuss techniques to get legitimate backlinks to improve your website's Off-Page SEO.
To learn about on-page techniques be sure to check out Mastering On-Page SEO – The Basics.