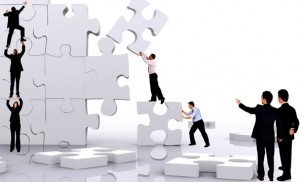 Here are some tips to help your web design process run smoothly
1. Do your Research
Bookmark websites you like. What do you like about them- the colours? the layout? the fonts? the images? Are they more of a corporate feel or a creative feel? This will help your web designers determine what visually pleases you so you're happy with your end design.
2. Have your content ready
Have logo, colours, pictures and content ready. In the end this is what will slow down the process the most.  Ensure the pictures you want to use are the same size. Use a professional photographer or purchase your images from "Stock Photo" sites such as istockphoto or shutterstock (your web designers can help you with this part!)
3. Have a Goal in Mind
What is the end goal of your website? Make sure you communicate this with your website designer– designing a site aimed at selling a product is very different then a site aimed at proving information. Once the goal is specified (ex. you want your customers to contact you for a quote) then your website designer will be able to gear your site around that. This may include adding a 'request a quote' pop-up or a 'request more information' contact box on the side of each page. The idea is to CONVERT your users. Examples of conversions are newsletter sign-ups, purchases, request a quote, download an e-book etc. Whatever the conversion goal is, the site should be designed around that.
4. Organize Your Site with SEO in Mind
Have different pages on your site optimized for specific keywords so that the url and keywords optimized match (for maximum effectiveness). Each page should focus on only 1-2 keywords. For example, if I want to optimize my site for the keywords 'website design' and 'logo design' I would create a separate page on my site for 'website design' with the url: www.incheck.ca/website-design and another page on my site focusing on 'toronto logo design' with the url pointing to www.incheck.ca/logo-design. Therefore when people search for 'toronto website design' it will take them to the page dedicated to website design. Each 'landing page' should provide information the user is searching for and have a clear conversion strategy so the user-flow is beneficial to both you as the site owner and your potential client/customer.
5. Write Content with SEO in Mind
Narrow down what keywords you would like to optimize in google's search (ex. if I'm a web designer I might want to optimize my website with the keywords 'toronto website design'). Write content with these keywords in mind so you can add these exact keywords in the body of your website. As mentioned above try to focus on only 1-2 keywords per site page.
There are other things that should be considered in your planning phase such has how you are going to Convert Your Website Viewers into Customers. Read This Post to find out more.