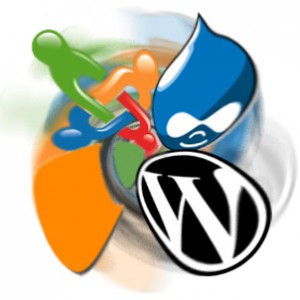 Content Management Systems (CMS) help website owners and administrators publish, edit, design and modify content on a website. Nowadays the three main leading names in content management systems are WordPress, Joomla and Drupal. These three CMSs are open source, free to use and customizable according to your own desires and goals for your website. They each have their own benefits and drawbacks and as such it is important to understand your website's needs along with your level of expertise before choosing what CMS to use. Every CMS has its own unique package features that users can benefit from for a wide variety of functions and projects.
Below is a brief description and comparison of the three most popular CMSs in the market today.
WordPress
WordPress started as a micro blogging site but later developed into a full-fledged, stand-alone CMS. This CMS is basic and very easy to use. It has a huge community of users with over 200,000 FaceBook fans. WordPress has an impressive plug-in architecture which provides plug-ins for almost everything you need. The only downside to this is that due to the vast array of plug-ins not all are maintained the way they should be and could cause potential errors on your website over time. That being said, there are still many solid plug-ins to choose from that can support all of your website's needs.
All WordPress sites do not always look alike and this variation is a result of the thousands of themes available for WordPress. There are many free options, but some quick research will show that most of the free templates not only look very similar, but lack in options. There are many premium theme developers who offer complete solutions for a fee (usually around $50 – $150 depending on the theme). Although these premium themes allow for a more professional look, they are still on sale to the general public and you could easily find many other sites out there using the same templates. The 3rd option is to have a custom theme developed for your website. This is the only way to guarantee that no one else out there will have the same design as you and you will also have full control over the branding and functions of the theme.
WordPress has a moderately weak core code but it seems to be getting better every year with their annual updates. Most users complain that the upgrade cycle is too fast because upgrading your CMS can sometimes cause issues with the plug-ins you have installed – especially if the plug-in's developers don't stay on top of things.
Drupal
Although Drupal has very clean core code, the number of available plug-ins are inferior to WordPress. Because of this you will find yourself needing to custom code plug-ins to support your website's functions. The theme selection is also very small compared to WordPress . On the other hand, Drupal is very scalable and its clean core code can support enormous websites with ease due to its server and code efficiency.
The Drupal admin panel offers a lot of functionality but has a much harder interface to use – not so practical for the non-technical users. As a result Drupal is great for large scale websites that can have a dedicated in-house team to perform the ongoing maintenance and updates. For the average user, stay away from this beast!
Joomla
Joomla is presumably the best CMS on the market today. Although Joomla has advanced functions, it also has a relatively easy user interface. It has a good menu system which is quite easy for beginners to work with, and website images and content can usually be updated with ease through the Article Manager, Media Manager and Module Manager.
Joomla has been on the market for a long time and therefore has a very big community of developers. There is a huge selection (more than 9000) of extensions (free) and commercial extensions (paid) available to support almost any website function you can think of. The templates available are again not as vast as WordPress but there are still many free and premium templates on the market if you are looking for a cost-effective solution. Of course a custom design is always possible as well. It is also a very scalable CMS making it suitable for both small and large scale sites.
When comparing WordPress, Drupal and Joomla, we believe Joomla offers a better and more efficient CMS for most website applications. The thousands of available extensions are more than anyone will ever need to create a stunning website. Joomla has the added benefit of providing an easy to use interface making it easy for any basic user to work within the admin panel. Although many of the extensions used in Joomla are premium extension (paid), you are far safer in the long run as commercial extensions are maintained and updated with each new Joomla release. For any growing business requiring a basic or scalable website Joomla will most likely be your best option.