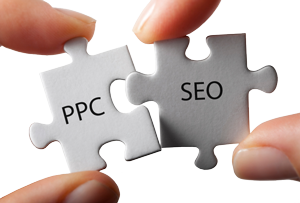 A lot of my customers who are interested in online marketing are confused between SEO (search engine optimization) and Pay-Per-Click Marketing and what online strategy is best for their business. I hope this post will help you understand the difference and identify which solution or why both solutions are right for your business.
There are a number of ways to get yourself ranked in Google. If you do a simple search in Google for 'accountant' you will get 3 types of results. First at the top you will see a few results with a beige background. These are paid results through the Google AdWords program (websites pay to advertise here) – you will see similar paid results down the right hand side of the page. You might also see a list of results that have physical addresses beside them – these appear through the Google places initiative. Finally, you will see the organic results. The first organic result you will most likely see for the keyword 'accountant' is a Wikipedia page, followed by thousands more down the list. The 2 main areas to focus on in order to be visible in google are the paid search results and the organic search results.
 SEO (Search Engine Optimization)
Organic SEO is a long and hard process but yields long term results. There is no sure-fire way to place number 1 for a given set of keywords – it is much more of an art than a science. Google doesn't explicitly say how they rank results, but we do know that it is a combination of website traffic, page rank, how many back links you have (other sites liking to yours), the quality of your back links, your on-page content, meta-tags, descriptions and many more factors. Google just released a great video that talks more about the basics and fundamentals of organic SEO.
Our SEO Experts employ several methods to improve your organic search results. The first step would be to select a set of keywords (as an example, lets use 'toronto website design') and through a number of different methods improve where you rank when a user searches 'toronto website design'. There are no guarantees that we can get you in the #1 spot for a given set of keywords (you should be very careful to work with any company that gives you #1 spot guarantees), but we can guarantee that we can drastically improve your rankings and have had tons of great success stories with many of our past clients.  If your curious to see how SEO can help your business contact an InCheck Solutions representative for a free keyword analysis of your business (we'll narrow down the keywords you should be targeting and show you just how many people are out there looking for your business).
Pay-Per-Click 
The Google Adwords program is a way for you to get on the first page of Google right away. This can be a more effective method than organic SEO if you need immediate results, but the downside is that as soon as you stop paying for advertising your website will no longer appear. The AdWords program works on a cost-per-click basis. Basically you only pay if someone clicks on your ad and ends up on your website. The cost per click depends on your industry and the keywords you target, but most campaigns will generally fall between the $0.50 – $3.50 per click.
We offer managed AdWords services to maximize your budget and improve the effectiveness of your online marketing campaign.  As campaign managers, our advertising experts will continually monitor your campaign and minimize your cost per click while maximizing your exposure and click-through-rate. As a bonus, if you choose to use our Managed AdWords services we will provide you with $100 in free advertising to help kick-start your first campaign!
In order to maximize your exposure from online marketing we recommend a tailored marketing strategy incorporating both SEO and Pay-Per-Click campaigns. We'd be happy to discuss what online marketing strategy is right for your business and help you implement your marketing plan.