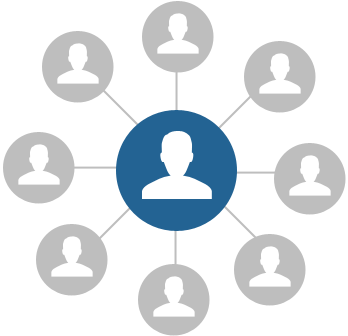 Running a business can be tough- all of a sudden you find yourself responsible for ALL aspects of your business.  And I mean all… Accounting. Marketing. Customer Service. HR. Account Management. Sales. Projects… And the list goes on. A good way to help you work through the never ending to-do lists is to start delegating that list. Some people find this difficult (I did at first!), but at some point you need to stop doing everything yourself and start unloading some of the tasks onto your employees. Here are some pointers that helped me and my website design company delegate (and cope!) with letting go:
1. Focus on tasks that contribute to your company's growth and success. This is what is important because this is what leads to your survival. Good tasks to delegate are: scheduling, office management, billing, production and sales. (this will vary depending on your company and your priorities). For example, our website design company now hires an outside firm to handle our accounting and billing- this frees up a lot of our time to focus on project management, creating websites and building our own website's online presence.
2. Give ownership of the task to the person you're going to delegate it to. This sense of ownership not only makes the person accountable for that job but also gives them a sense of pride in the work they are doing (studies have shown that this results in employees putting more effort and time into the task resulting in better end result!).
3. Don't micromanage. I know this may be difficult (especially if you're a perfectionist) but the reason you started to delegate in the first place was to free up some of your time, don't go wasting it by looking over shoulders and babysitting progress. Trust your employees to do the jobs assigned to them- you hired them for a reason right?
What has helped you free up some time in your business?