Social media engagement is a key success factor in any social media campaign. It is great to provide valuable information and content to your users, but if your social media engagement level is low you are most likely wasting your time with your campaign.
What is Social Media Engagement?
Social media engagement is the ability for you as a company to reach out to your social following and receive a response. With Facebook, that might come in the form of a 'Like', 'Comment' or 'Share' and on Twitter a social engagement would be a 'Mention' or a 'Re-Tweet'. Social media engagement also works from a customer's perspective, for example when you ask a question to a specific company via social media and hope to receive a response from that company.
How do you Measure Social Media Engagement?
There are plenty of tools to measure social media engagement. Using Facebook as an example, if you are already an active Facebook Company Page user, among many other metrics you will be able to measure your Engagement with a breakdown of Likes, Comments, Shares and Clicks.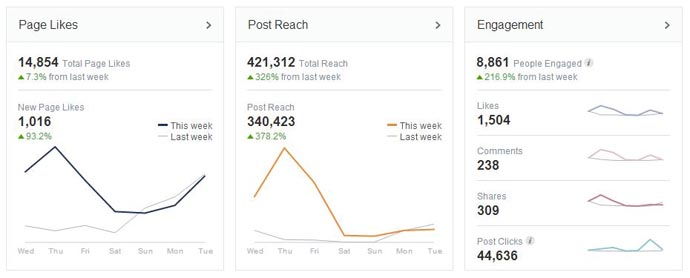 Most social media campaigns span across multiple social networks so managing analytics can be quite time consuming. Luckily there are some free social media analytics services out there that can help make this job much easier. One of those services, Klout, is a free tool that will not only help you analyze your current efforts, but it will make suggestions on how you can improve your social media engagement level as well.
Why is Social Media Engagement Important?
When you post content to your social media pages, are you receiving responses and 'engagement' from your followers? The more responses you receive, the more likely it is that your company page will receive new followers and subscribers as the interactions you receive will be visible by each user's own social network. As customer engagements begin to grow your social following you will start to increase your reach, and after all, the main goal of your campaign is to reach as many customers and potential customers as possible.
How can I Improve my Social Media Engagement Level?
1. Find out what your followers want. Are they following you looking for discounts and promotions? Make sure you are providing the valuable content they are looking for and not just using social media as a platform to sell.
2. Post content that will encourage engagement. A great way to do this is to run a contest where a user must 'share' or 're-tweet' in order to enter. Not only will this help your posts reach but it will potentially generate more likes/followers/subscribers of your page.
3. Ask and you shall receive! One of the easiest ways of increasing your social engagement level is to simply ask for it! After sharing something unique and valuable, simply write things like "please share" on Facebook or at the end of blog posts write "Love to hear your thoughts. Please comment below". Looking to increase followers? Write: "If you enjoyed this post and want more, please follow us on Twitter or become a fan on Facebook" with links to your company pages.
Social media engagement should be the core focus of any social campaign you are executing. Be sure to monitor your efforts so you can learn what works and what doesn't for your specific industry and always be sure to engage back with any responses you do receive. If you have any questions about social media marketing contact our social media marketing team and we will be happy to help!
Have you found a great way to engage with your followers? Let us know how in the comments below!